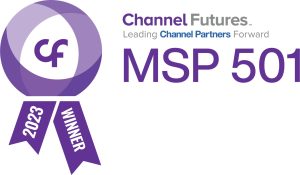 Blue Line Technologies Ranked on Channel Futures 2023 MSP 501—Tech Industry's Most Prestigious List of Managed Service Providers Worldwide
Annual MSP 501 Identifies Industry's Best-in-Class Businesses
Growing Via Recurring Revenue and Innovation
JUNE 19, 2023: Blue Line Technologies has been named as one of the world's premier managed service providers in the prestigious 2023 Channel Futures MSP 501 rankings.
For the past 17 years, managed service providers around the globe have submitted applications for inclusion on this prestigious and definitive listing. The Channel Futures MSP 501 survey examines organizational performance based on annual sales, recurring revenue,  revenue mix, growth, innovation and supported technologies.
MSPs that qualify for the list must pass a rigorous review conducted by the research team and editors of Channel Futures. It ranks applicants using a unique methodology that weighs financial performance according to long-term health and viability, commitment to recurring revenue and operational efficiency.
Channel Futures is pleased to name Blue Line Technologies to the 2023 MSP 501.
"The whole Blue Line team has worked this past year, actually for the past 10 years to support our clients, we are thrilled to be recognized by Channel Futures for our work," said Jeff Sagraves,  President , Blue Line Technologies. " The mission at Blue Line Technologies is to advance business performance of our clients through secure and accessible technology, this award is validation of our purpose, execution and achievement."
Since its inception, the MSP 501 has evolved from a competitive ranking into a vibrant group of innovators focused on high levels of customer satisfaction at small, medium and large organizations in public and private sectors. Many of their services and technology offerings focus on customer needs in the areas of cloud, security, collaboration and hybrid work forces.
"The 2023 Channel Futures MSP 501 winners persevered through challenging times to become the highest-performing and most innovative IT providers in the industry today," said Jeff O'Heir, Channel Futures senior news editor and MSP 501 project manager. "The MSP 501 ranking doesn't award MSPs solely on their size and revenue. It acknowledges the business acumen, best practices and trusted advice they deliver to customers every day. They deserve the honor."